For the first time in ISA History, Longboarding Will have its Own World Championship to Take Place in Huanchaco, Trujillo, Peru, September 22nd to 28th.
La Jolla, California, August 22, 2013- The International Surfing Association (ISA) is excited to announce the first stand-alone ISA World Longboard Championship this September at the legendary break of Huanchaco, Trujillo, Peru.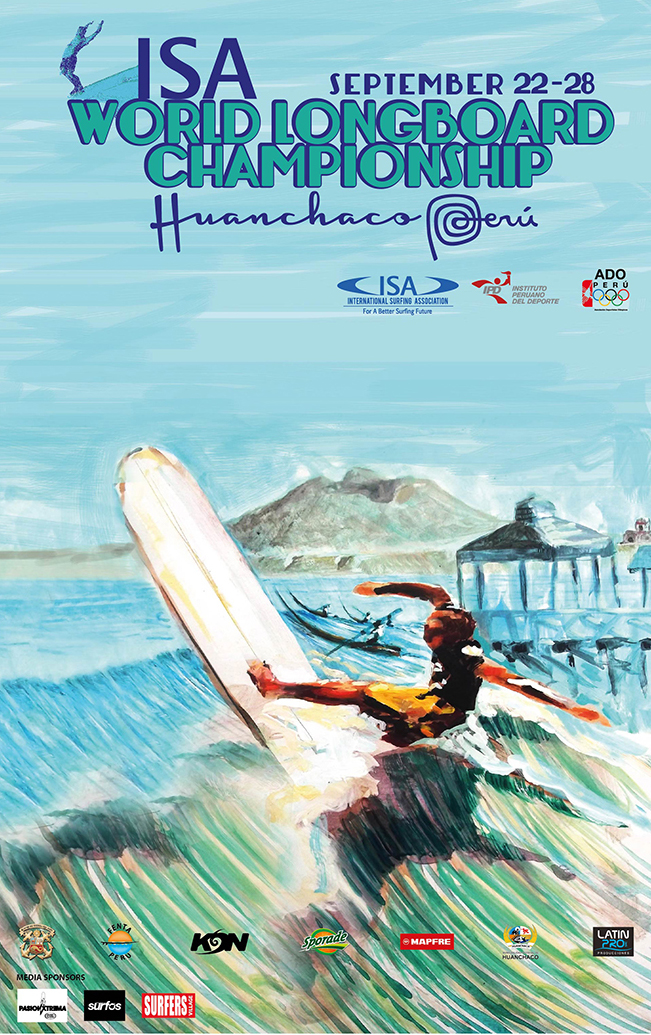 Longboarding has traditionally been a division of the ISA World Surfing Games since 1988. Due to the growing popularity of the Longboard division and the increase in participating athletes, the ISA has decided to organize its own World Championship with specialized longboarding judges at one of the best surfing destinations in the world.
"Longboarding really brings the best of modern and historical surfing together," said ISA President Fernando Aguerre. "We're honored to host the first ISA World Championship in Huancacho, Peru, as this historical location is documented to be one of the original birth places for riding waves thousands of years ago, and is home to a passionate and growing population of surfers," he added.
Longboards are the original equipment surfers rode before the shortboard revolution in the late 1960s. Longboards came back in popularity in the early 1990s, and made the learning curve much smoother for entry-level surfers. Today, contemporary longboarding includes traditional maneuvers (like Hang Five, Hang Ten, Drop Knee Turns), as well as all the gravity-defying aerial maneuvers of contemporary surfing.
Huanchaco (pronounced Whan-Cha-Co) is not only known for its world-class, consistent waves and as the birthplace of the popular "ceviche" dish, but also for its long history of wave riding. Before the Inca era about 3,000 years ago, Peruvians have been documented riding waves on their small reed fishing boats called "caballitos de totora."
Surfing is also an incredibly popular activity in the country, which has produced a handful of world championship-level surfers. Peru hosted the 2013 and 2012 ISA World SUP and Paddleboard Championship in Miraflores, Lima; the 2011 World Junior Surfing Championship in Punta Hermosa; the 2010 World Surfing Games in Punta Hermosa; and the 2008 World Masters Surfing Championship in Punta Rocas.
The ISA World Longboard Championship will include a women's and junior's division for the first time as well. During the competition, teams of four will compete including two in the Open Men's, one in the Open Women's and one in the Open Junior's (under-18 male or female) divisions. Individual Gold Medals will be awarded, as well as one overall Team Champion at the end of the contest.
Defending Champions from the 2011 Longboarding Division of the World Surfing Games in Playa Venao, Panama, include: Toni Silvagni (USA) Gold Medal; Harley Ingelby (AUS) Silver Medal; Piccolo Clemente (PER) Bronze Medal; Antoine Delpero (FRA) Copper Medal; and Team Australia (Gold), Brazil (Silver), France (Bronze), Argentina (Copper).
Catch the live webcast on www.isawlc.com beginning on September 22, with the Opening Ceremony.